Parallel Paths: Exploring Common Ground in Post-Crisis Community Development - A Reflection on Ukraine & Detroit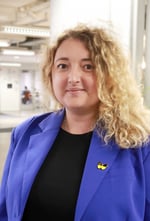 KATERYNA POLIAKOVA (SHE/HER) OF KYIV, UKRAINE, joins MCR through the American Councils Professional Fellows Program from September 11th to October 6, 2023, supported locally by Global Ties Detroit. She is a Communications Specialist with the United Nations Development Program. Kateryna comes to Detroit to learn about NGO and nonprofit management with a focus on recovery and community development in post-crisis settings.
MCR is excited to share a fresh perspective on our work and to reflect on the differences and similarities in community work across the globe. We asked Kateryna to reflect on experiences during the first week of her fellowship and offer a snapshot of some initial reflections on capacity building and community development in Detroit.


Having spent a little more than a week in Detroit, I have observed surprising commonalities in our work – from the tools we use to the challenges we confront in addressing the needs of civil society.
While the reasons for recovery efforts differ between Detroit and Ukraine, one fundamental truth remains: recovery is ALWAYS a journey. I am eager for a meaningful exchange of ideas and insights, and I am already enriched by the perspectives I have encountered here.
Surely, there are some cultural and "infrastructural" distinctions. For example, issues of racial equity are not at the forefront of the discussion in my country. However, in Ukraine, where over 4.9 million internally displaced persons face ongoing social disparities, the quest for strengthening social cohesion and lifting the voice of those who experience inequality parallels the challenges faced in Detroit.
In Ukraine, nonprofit organizations predominantly rely on support from international donors to fuel their crucial work. In contrast, here in the United States, the landscape of financial support for nonprofits is more diverse, encompassing a spectrum of private foundations. Nevertheless, despite these contextual differences, a common challenge persists in engaging decision-makers and advocating for the recognition of the vital needs within the nonprofit sector. Whether on an international stage or within local communities, the fundamental challenge of securing resources and championing the nonprofit sector's goals remains unwavering.
NETWORKING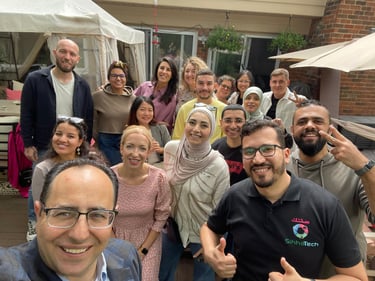 One of the most striking parallels I've found lies in the realm of networking processes. Back in 2020, on request from the Ashoka Foundation, I collaborated on developing a research report, which was crafted through a series of snowball interviews with 236 influential changemakers in Ukraine. Among the two most pressing challenges highlighted by respondents, alongside insufficient financial resources, was lack of cooperation/partnership, cited by 21 percent.
(Pictured: Welcome brunch for the fellows from Northern Africa, the Middle East and Europe at the home of Faris Alami in Detroit, September 2023; Photo courtesy of Faris Alami)
This challenge was linked to the prevailing perception within Ukrainian NGOs that they often consider each other as competitors for funding and recognition rather than as potential partners united by common interests. The culture of inclusive dialogue, consultation, quality standards, and democratic governance was still in its infancy.
This challenge's root cause also stemmed from a lack of competencies, with many key actors uncertain about the areas where they could collaborate effectively. Building robust partnerships, however, necessitates an ecosystem approach and strategic thinking, skills that were often found lacking.
Interestingly, I find parallel processes unfolding in Detroit, and I believe these experiences can be scaled up for the entire United States. I experienced a sense of déjà vu when reading the "Building a Network" recommendations prepared by MCR and partners in 2019, as the needs and barriers outlined within are strikingly relevant to Ukrainian NGOs as well.
This convergence of challenges and solutions spurred the inception of the Dovetail project, designed to connect southeastern Michigan's nonprofits, foundations, and service providers with a vital resource essential for thriving communities. In Ukraine, a similar initiative takes the form of the Marketplace platform, facilitating direct connections between providers of organizational development services and the NGOs, associations, initiative groups, and municipal institutions that seek them. It is just one example out of many.
CRISIS RESPONSE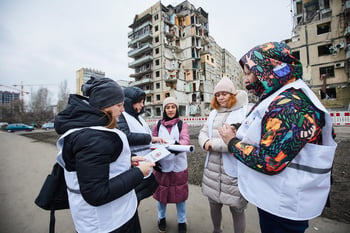 Both Detroit and Ukraine are confronting tough challenges. Detroit grapples with racial inequity, the lasting effects of the 2011 municipal bankruptcy, and a host of associated difficulties, while Ukraine faces an entirely different kind of crisis. Additionally, like the rest of the world, both geographies have had to contend with the impacts of the COVID-19 pandemic. These profound upheavals have reverberated through the public sector, compelling NGOs to embark on reinvention journeys.
(Pictured: Crisis psychologists assist at the site of the missile attack on a residential building in Dnipro, Ukraine, January 2023; credit: Oleksandr Pitel / UNDP in Ukraine)
In response to these tumultuous events, NGOs in both Detroit and Ukraine have embarked on quests for new tools and opportunities. They have found themselves in the position of having to reevaluate strategies and recalibrate approaches to engage with evolving target audiences. The crucible of these crises has, in many ways, been a catalyst for innovation and adaptation within the nonprofit sector.
GRASSROOTS ORGANIZATIONS AND INITIATIVES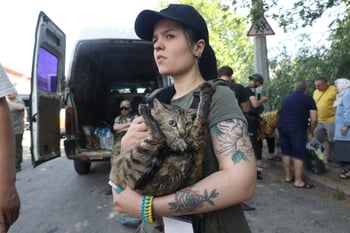 Crisis situations tend to galvanize people into action, particularly when government entities are either unable or unwilling to address pressing issues. According to research conducted by the Zagoriy Foundation in August 2022, more than a third of Ukrainians regularly volunteer since the start of the Russian large-scale invasion. A similar surge in volunteer activity was observed after the Revolution of Dignity and the beginning of the armed conflict in Ukraine's Donbas region in 2014.
(Pictured: A volunteer holds a cat rescued from the flooded part of the city of Kherson after the disruption of Khahovka HPP, Ukraine, June 2023; credit: Mykola Tymchenko / UNDP in Ukraine)
In turn, this led to a significant increase in the number of civic initiatives and, later, in officially registered organizations. However, the level of their organizational capacity was relatively low, so many of them could not survive or become self-sufficient. We expect this situation may repeat itself after the end of the war in Ukraine. To deal with this issue, it is crucial to work with newly created grassroots initiatives from the very beginning, supplying them with tools and methodologies needed for capacity development and sustainability.
In my discussions with colleagues at MCR, I have realized that we share common ground at this level as well. Grassroots organizations and initiatives, often led by unpaid volunteers, consistently grapple with unequal access to resources. They face challenges related to a lack of essential skills, along with negative attitudes, practices, and norms associated with nonprofit work. Additionally, their organizational capacity to effectively manage even the limited resources available to them can be strained. Furthermore, they sometimes encounter a patronizing attitude that undermines their efforts.
That is precisely why intermediaries, like MCR and some Ukrainian umbrella organizations, play such an important role in the ecosystem. They serve as staunch advocates for the needs of grassroots initiatives and act as a vital bridge, connecting these initiatives with the necessary resources and support to help them thrive and make a meaningful impact in their communities.
****
For the next several weeks, I have plenty of interviews planned to learn more about the civil society infrastructure in Detroit and across Michigan, looking for inspiration and unique experiences that will bring new perspectives to my work to benefit Ukrainian civil society. In my opinion, solid partnerships between institutions and individuals in the United States and Ukraine will support peer exchange and help develop practical solutions for challenges and concerns.
To connect with Kateryna during her time with MCR, email her at kpoliakova@mi-community.org.
Our newsletter comes out biweekly and includes events and programs for nonprofits and community leaders from MCR and our partners, local nonprofit and community news, grants and other fund development resources, opportunities for skills-based volunteering to support nonprofit organizations, and more.
Please note: Michigan Community Resources' team is continuing to work remotely to minimize the spread of COVID-19. Our office will be closed until further notice. You can still reach our staff by phone and email.