The Big Impact of Small Projects: How Skilled Volunteers Can Impact Their Communities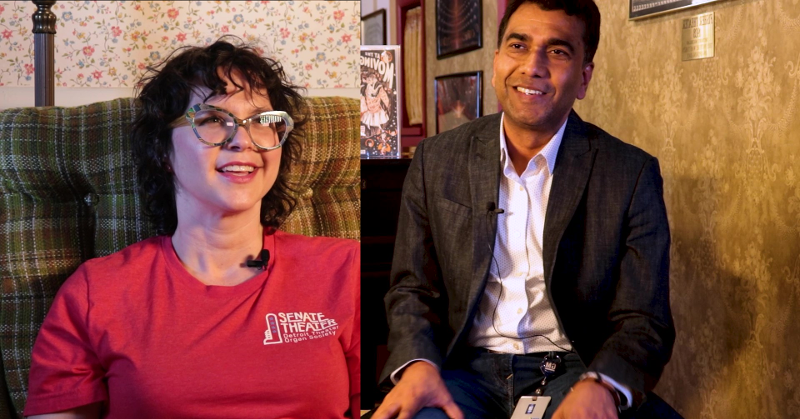 (Pictured: Lindsay Robillard of the Detroit Theater Organ Society, and Raj Singh, and volunteer from GM, who worked together via MCR's skill-based volunteering program.)


In order to bridge gaps in food access, education, the arts, communities often depend on the services provided by nonprofits.
The leaders of small, and even large, organizations have to wear many hats to accomplish their missions, and sometimes one leader is called to serve as CEO, and head gardener, and day care provider, etc.
But no matter how capable they seem to be in managing their many responsibilities, an individual leader can't do everything.

As nonprofits evolve to respond to community needs, they encounter a wide range of issues that require specialized support, and there is often a gap between certain critical skills and the nonprofits that need them. Whether due to a necessary focus on programming, a lack of access to resources, time, or money, or general capacity issues, many organizations may not be able to bridge those gaps that would allow them to more effectively achieve their missions. But there is a secret weapon in this work: volunteers. Ask most nonprofits which resources are their most important and volunteers will top the list.
VARIETIES OF VOLUNTEERING
The perception of "volunteers" often resembles people in matching shirts painting a fence or cleaning litter. While these aren't unimportant services, they barely scratch the surface of what volunteers can do. A billing specialist might be perfect to help an arts nonprofit determine which point of sale system would be best suited for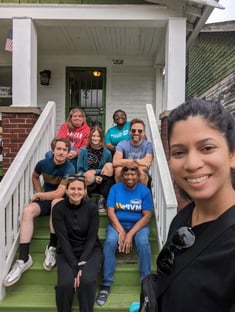 them. A graphic designer could help create a logo that captures a nonprofit's mission. A landscape architect might be design a pollinator garden for children to explore. Certain specialized skills can do a lot to help address specific problems nonprofits face.
(Pictured: MCR volunteering at Growing Joy, August 2023)
However, finding that crucial volunteer is often a challenge itself. In response, MCR launched the corporate skilled volunteer program to create access and help bridge this gap between nonprofits and professionally skilled volunteers. By offering the skill sets of their employees to nonprofits, companies can help create access to skills that might otherwise be unattainable or expensive. Starting in 2021, MCR has been partnering with General Motors to connect volunteers in their engineering, IT, and finance departments with nonprofits for limited-scope, time bound projects.
PROJECT BASED PARTNERSHIPS
At MCR, we occupy a unique position working with networks of nonprofits and businesses, which allows us to understand the strength and challenges of both. Over the course of their partnerships, MCR facilitates ongoing dialogues between the nonprofits and their corporate volunteers to help them be successful. We help nonprofits ideate, plan, and apply for volunteers, and train corporate partners on effectively supporting nonprofits.
In the last round we ultimately were able to pair 12 organizations with volunteers. One such organization was the Detroit Theater Organ Society, who operate the Senate Theater in Detroit. For this project, GM IT volunteers helped to update their website to make their mission clearer.
(Above: a video by MCR about how the partnership between volunteers and the Detroit Theater Organ Society affected both parties)
The benefits of these partnerships are manifold. For nonprofits, access to these critical skills means they can focus on their programming and supporting their communities. For corporations, businesses can create positive effects that ripple through the community. But on an individual level, employees utilizing their expertise challenge themselves and develop a stronger relationship with their community. We often see volunteers stay engaged with the nonprofit and community even beyond the project timeline.
We at MCR are excited about this work because it ties perfectly to our origins of connecting nonprofits with legal experts and advisors. We invite you to dream with us what this could look like next.
Our newsletter comes out biweekly and includes events and programs for nonprofits and community leaders from MCR and our partners, local nonprofit and community news, grants and other fund development resources, opportunities for skills-based volunteering to support nonprofit organizations, and more.
Please note: Michigan Community Resources' team is continuing to work remotely to minimize the spread of COVID-19. Our office will be closed until further notice. You can still reach our staff by phone and email.